Do These Workouts Anywhere
Creating Fat Loss Workouts is Not that Tough
People make programming for fat loss way too complicated.
Granted it's hard to actually lose weight but you don't have to make the actual workout design difficult, and you definitely don't have to beat the crap out of your body using weights unless you want to. Plus, if you get injured you are not going to exercise.
Sliding one of these types of workouts in is yet another way to get RBT into your workouts.
Here are easy fat loss workouts I frequently use with my clients.
Easy Fat Loss Workouts
45 on, 15 off for 3 sets
Alternate through 2 band strength exercises and 1 body-weight calisthenic exercise
Repeat this sequence for 3 total rounds to complete a 20 minute workout
Follow Along with Me on this ONE
******************************************************************************************************************
Get 10 – 20 Minute Hassle FREE Fat Loss Anywhere Band Workouts
Click on Image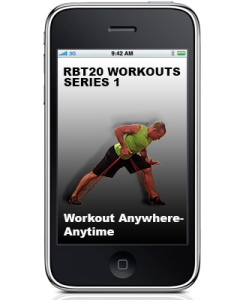 __________________________________________________________