Travel Workout Solutions using Resistance Bands
You do not want traveling to disrupt your training momentum.
The following challenges can make it difficult to get your workouts in but with Resistance Band Training, travel workout solutions are automatic:
Unpredictable Travel Schedules
Especially when flying, predicting your travel schedule can be very challenging. Fortunately with RBT, you have your training gym with you. Therefore, when you finally get to your destination, you have what you need to get a quick workout in.
Finding Time to Train
Figuring out when you are going to have time to get in a workout will require some planning. Use your actual travel time to map out a few different scenarios that may occur while you are on your trip.
Morning time is often when you will have the most control of your schedule and is probably the best time to get in a workout. Plus, training at that time eliminates the concern for unexpected end of the day schedule changes. Bands can make an early morning hotel room workout very realistic and productive.
Lack of Activity
One of the guaranteed travel training challenges that will occur with all the extended sitting is joint and muscle stiffness. This lack of activity will require additional pre-workout warm-up and activation training time.
One of the benefits of RBT is the ability to use bands to stretch out with. Pre-shower morning stretching routines go a long way in getting the day and your body off to a great start.
Acclimating to YOUR Training Location Quickly
With the ability to virtually see what hotel fitness centers look like as well as what the rooms look like, it allows you to start acclimating yourself to your travel destination before you arrive.
RBT versatility will, in turn, allow you to determine what type of workouts you will be able to do and where. Determining things like floor space, attachment points or what the hotel gym offers, will allow you to get your workout set up and planned out well before you arrive.
Finding a Place to Workout
Obviously the ability to train anywhere at any intensity with bands makes travel training challenges less of an issue. Also, not having a need for stable attachment sites allows you to train the entire body using attachment free band training.
As a result, with resistance band training the smallest of hotel rooms remain a viable workout option while a hotel fitness center becomes extremely versatile regardless of what they have for equipment.
What You Should Have in YOUR RBT Travel Gym Kit
I recommend having at minimum the following RBT bands and accessories:
1. Bands
In terms of bands, I would recommend choosing from the assortment of Fitness Packages or The Gym-to-Go based on your specific fitness needs. These packages will provide the need band training accessories and training resistance that will allow you to workout anywhere, anytime, while performing any movement at any intensity.
2. Accessories
For accessories, I would recommend a countdown timer (Timex Ironman Watch) or workout app (Seconds PRO) to help simplify and automate your workout.  It is important to make workouts simple by using time based sets vs rep based sets.  Best way to achieve this is by making sure you have versatile tools (like quantum bands) and a way to automate your workout so all you have to do is focus on effort instead of counting reps.  (The RBT Travel Trainer that comes with the RBT Gym-to-Go provides Done-for-You workouts as well as multiple workout location ideas)
3. Towel
I also recommend having a towel so that you can incorporate it into your band training options.  A towel can function as training handles or a simple belt that in turn allows you to perform pushing, pulling, squatting and locomotion drills that would not be possible without a towel.  Fortunate all hotels provide you towels.   Below is an example of a towel band training workout as a travel workout solution.
Summary
Planning is essential if you are going to optimize your travel workouts. The key is to have a plan and the tools to execute the plan.   Fortunately with resistance bands and a simple smart phone app, all your travel workout solutions are available so all you have to do is show up and get ready to workout.
---
Don't Let Travel Change Your Workout Routine
The RBT Gym-to-Go is a complete travel training system that allows anyone to train any aspect of fitness and performance, anywhere at any intensity.  Stop relying on small poorly equipped hotel fitness room to get your workouts in.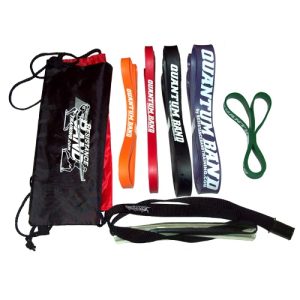 RBT Gym-To-Go Comes with 3 Bonus Workout Resources