About the Continuous 2-Minute Challenge Workout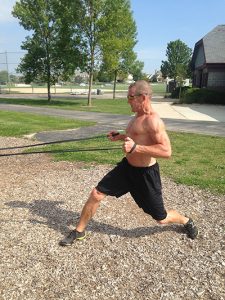 The Continuous 2-Minute Challenge Workout is designed around a CrossFit program called EMOM (Every Minute On the Minute). However, in this case it is every 15 seconds for 2 minutes followed by a 1-minute rest.
The key is to make sure you are pushing yourself by trying to get 3 to 5 reps on every set.
Obviously, level of resistance will dictate effort so go with a high resistance band. My recommendation is to shoot for 5 reps and if you achieve this for all 8 intervals, increase resistance next time.
Setting Up Your Seconds Pro App Using the Circuit Program
Step 1 – Choose the Circuit Program
Step 2 – Name it "Continuous 2 Min. Strength"
Step 3 – Put Number of Sets (Rounds) as 10
Step 4 – Create 8 work intervals for 15 seconds and name the exercise "GO"
Step 5 – Set Rest Interval to 0.00
Step 6 – Set Rest Between Sets as 1:00 Minute
Step 7 – Leave Warm Up and Cool Down at 0.00
Step 8 – Set Alerts to Text to Speech Without Count
Step 9 – Press Save
Training Recommendations
Program Design
Work Interval Time: 15 seconds with goal being to perform 3 or 5 reps every set
Rest Between Intervals: 0
# of Total Intervals Per Round: 8
# of Exercises Alternated Through Per Round: 1
# of Recommended Rounds: 10
(Rounds can always be modified based on time available)
Total Workout Time: 29 minutes
Exercises
Clean Pull A Part
Blast Off Push Up
Split Squat Left
Split Squat Right
Knee Tap Planks
Jerk Press Right
Jerk Press Left
Bentover Row
High Pull Jack
Dynamic Stabilizer Drop Squat
How to setup this workout and 10 exercises to consider using
Products Used in this Workout
To set-up and perform this Continuous 2-Minute Challenge Workout anywhere it will require having one of these Single Band Packages: