Choose the Right Quantum Bands for YOU
All Quantum bands are manufactured with 100% latex (no artificial fillers) using a Latex "Continuous Layered" Bonding process that results in the most durable, consistent, and longest performing continuously looped resistance band in the world. Click here to learn about the Quantum Band Difference.
41 Inch Bands
Our Standard 41 inch Quantum bands are our most popular bands. They are designed to train all aspects of fitness and performance.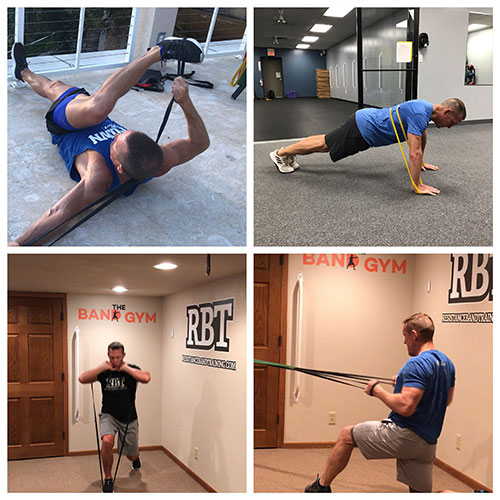 13 Inch Dynamic Stabilizer
The Quantum Dynamic Stabilizer Bands are designed to help individuals train the powerful butt muscles to perform the way they were meant to.   Learning how to apply this simple 13 inch band will help the butt muscles maintain great ankle, knee and hip alignment in standing as well as with any form of locomotion.  Better standing and walking stability will in turn create rock solid dynamic balance no matter where you legs want to take you.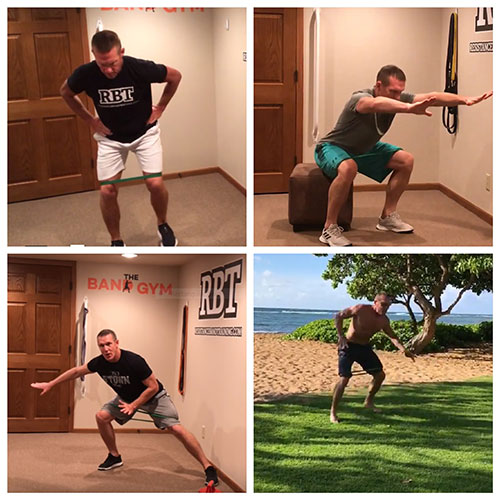 73 Inch Thunderbands
The 73 inch Thunder Quantum Band  is a tough super durable band designed to challenge the strongest of the strong.   Being almost twice the length of our standard 41 inch Quantum band, it provides for a much wider range of resistance by providing a lower starting resistance with a more user friendly ascending resistance.  However with greater band thickness (5.5 mm vs. 5 mm found on 41 inch bands) the Thunder band is build to  handle aggressive horizontal vector speed and tug of war training.   Attached for individual stations training or using a partner attached set up, Thunder bands will give you a tremendous training challenge anywhere.
Band
Band Image
Estimated Resistance
Price
Usage
73 x 1 1/2 Inch Thunder Band – Teal – Large
25-85 lbs
$48.99
Buy Now
Moderate resistance to train all horizontal vector movements including running
See More Info about this Band
73 x 2 Inch Thunder Band – Maroon – X-Large
 35-110 lbs
$58.99
Buy Now
Aggressive resistance to train all horizontal vector movements including running, crawling and partner attached towing. Great also for simulating weight sled movements.
See More Info about this Band
RBT Accessories
All RBT accessories are designed specifically to be used with Quantum bands while providing increased training variety.  Even though Quantum Bands, by themselves, are extremely versatile, adding in accessories makes exercises options and training unlimited.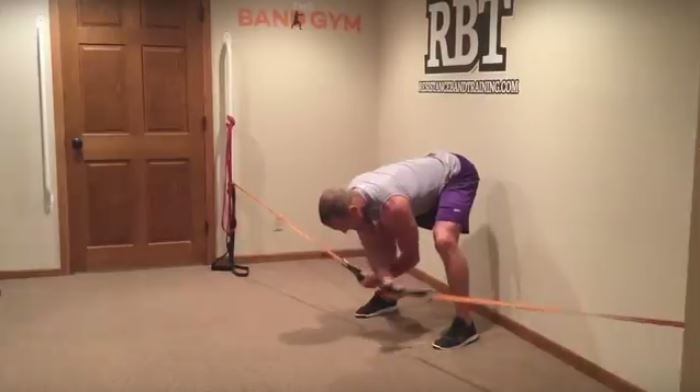 | Product | Image | Description | Price | Usage |
| --- | --- | --- | --- | --- |
| Accessory Kit | | Includes a Band Utility Strap, Link Strap, and a Pair  of Training Handles | $39.99 Buy Now | The accessory kit is easily your best value when it comes to adding in all RBT accessories into your training routine. Adding in an RBT Accessory Kit is like adding in 100's of additional exercise to your present band inventory. Learn More |
| Training Handles | | 1" diameter foam covered plastic handles designed with a secure triple stitched nylon strap and a band friendly 1" wide carabiner for quick band attachment | $24.99 Buy Now | RBT training handles are designed to make upper body band training comfortable and efficient. They are easy to attach and unattach from the bands so you can transition between using them and not using them in the same workout. Learn More |
| Band Utility Strap | | A 28" long triple stitched looped nylon strap that is placed through a 10" x 2" long plastic tube. | $15.99 Buy Now | The Band Utility Strap (BUS) is designed to attached bands into a door jamb or to a stable structure that if attached directly  could damage bands.  Learn More |
| Link Strap (Band Not Included) | | Super Strong 1" x 16" velcro wrapped strap designed to securely link, any similar sized bands together | $3.99 Buy Now | The Link Strap eliminates similar size bands having to be directly linked together which can lead to difficulty getting bands unlinked as well as premature tearing of bands due to bands being twisted tightly. Learn More |
| The BAR | | 48" long x 1" diameter secure wall mount bar, with vertically positioned screw sites for quick attachment to a wall stud. Hardware is included. | $79.99 Buy Now | The BAR was designed exclusively for RBT Quantum Band training. The BAR allows you to quickly set up a secure attachment site for any type of Quantum Band training. Learn More |
| Sport Training Bag | | Light-weight string backpack with front secure zipper pocket | $7.99 Buy Now | Carry your entire Band Gym in this light weight string backpack. Easily fits up to 5 pairs of bands, accessory kit, phone, headset, wallet, keys, and more. Learn More |
Band Packages
Chart coming soon. Check out all the products in this category.