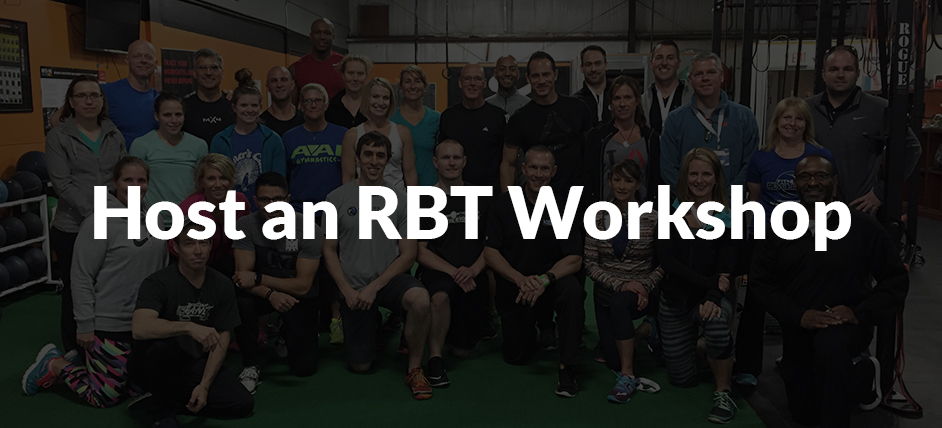 Have "The Band Man" Come Train You and Your Team on How to Get Better with Bands
Resistance band training is unmatched in its ability to impact all aspects of fitness and performance. It provides trainers and coaches with a training system that will expand their training toolbox like no other. The fastest way to get better with bands is by learning directly from the world's leading expert and creator of the only true Resistance Band Training System.
Fast Track Your Learning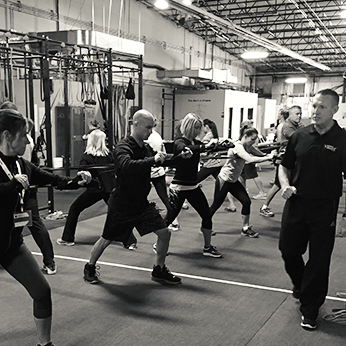 Dave Schmitz (aka The Band Man) has spent over 20+ years perfecting the art of resistance band training while continually refining the RBT360 Training System.
Dave's passion—as well as his vast experience as a fitness business owner, an active trainer, a practicing physical therapist and a high school strength coach—provides him with a unique opportunity. He not only talks the talk, but he also walks the walk when it comes to continually refining his RBT360 Training System.
By combining his experience with a mission to pay it forward through teaching and sharing with others, it will quickly become apparent by those that attend why RBT Workshops are truly a unique learning opportunity.

RBT Workshops Are Perfect For…
Private Training Facilities looking to expand their programming
Large Fitness Clubs looking to enhance their training options and experiences for their members
Club Sport Organizations wanting to add a convenient age-friendly speed and strength training component to their skills training
High School, College or Professional Sports Organizations wanting to provide their athletes with multi-directional acceleration and deceleration speed training along with reactive strength training as part of their in-season and off-season training
Organizations working with fitness pros, trainers or boot camp owners who want to host events to help with continued education
Regardless of your situation, Dave and the RBT Team will work with you on logistics and location. We offer workshops throughout the country, and we are excited about the opportunity to bring the RBT360 Training System to you, your staff and your clients or athletes.
Please don't hesitate to let us know how we can best serve you in getting the RBT360 Training System working for you like it already is for 100's of coaches and trainers around the world.
---
I'm Interested in Hosting an RBT Workshop!
---
What the Trainers and Coaches Are Saying
Cheryl Pattyn
I had the pleasure of taking a 1 day workshop with Dave in Chicago. The information and practical experience I received was second to none. Dave knows his stuff when it comes to band training for all fitness levels, and he is a world class coach to learn from. If you have an opportunity to learn from Dave, then do it. You will not be disappointed. Thanks Dave for everything.
Cheryl Pattyn (Fitness Professional)


Kris Simpson
I came to Chicago's Elite Training Workshop because I wanted to see one of my favorite trainers. I have been following Dave for about 3 years now. It was a great experience meeting someone you look up to in the fitness field. Dave did not disappoint as the sessions were energetic, fast-paced and very educational. We did not just learn "HOW" to do more exercises, we learned "HOW, WHY, WHERE, AND WHEN" to implement his band systems. I recommend all his products (from using them for 3+ years) and attending any conference he will be speaking at. It was well worth the price, and even that was a bargain. Dave is cutting-edge in terms of his methods and abilities. His programs/tools and training work with ALL FITNESS LEVELS.
Kris Simpson (Personal Trainer)


Darrel Barnes
The bands and workouts we have implemented from Dave Schmitz have revolutionized our training. Our athletes have seen tremendous improvements in strength and flexibility. The bands opened a completely new revenue source for adult training, and the adults love it. Low impact strength, mobility and cardio workouts for our adults have resulted in women dropping as much as 5 dress sizes in two months. Also, they all comment on how much better they feel with extra energy.
Darrel Barnes (Athletic Republic – California)


Maria P. Peterson
First, I want to say what a pleasure it was to learn what a wonderful training tool continuous looped bands are AND from no other person than you! Your clear and passionate reasoning as to why bands are so versatile for anybody is wonderful. Each module that you taught during Friday's all-day workshop proved to be challenging but easily adjustable to meet the needs of each individual. It was amazing to discover that a single, inexpensive band can provide as much resistance as one wants in the fundamental movements of squats, pushing, pulling, lunges and core work. I thought I was pretty strong with my kettlebells, but the bands had me trembling like a leaf in the wind — and I liked that. I knew it wasn't just the big muscles getting challenged, but the stabilizing muscles as well…
Maria P. Peterson (Fitness Professional)


Greg Wright
I have been working with resistance bands since 2002, attended Dave's speed and agility workshop for coaches in 2014, and trained with Dave in two other clinic settings. His clinics and training videos are designed in progression to prevent injury and improve athletic performance. They have enabled me to design workouts for my athletes and myself. When I had questions regarding workout frequency, sets, reps and overall fitness, Dave has always been prompt in his responses. His site has a wealth of information for any individual who wants to improve overall fitness in any age group. Like Dave, I work with athletes each week and Dave's RBT Training System has allowed me to provide each of our athletes with programs that adapt to their needs and strength levels.
Greg Wright (Coach)
---
See RBT Workshops In Action