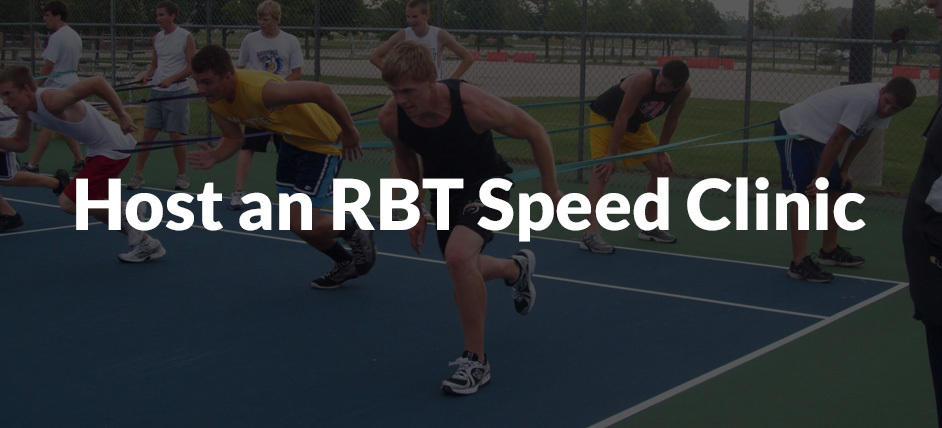 Attention Coaches – Let Dave Come in to Train You and Your Athletes on How to Get Field Fast-Fit and Flexible training with bands.
Resistance band training (RBT) is unmatched in its ability to impact all aspects of sports performance. It  provides  sport coaches all over the world with a single training tool  that, unlike most portable training devices,  immediately provides them to train acceleration, deceleration, power, strength and flexibility … Anywhere.
Fast Track Your Learning
Since 1996, Dave Schmitz (aka The Band Man) has worked with 1000's athletes of all ages and skill levels to help them get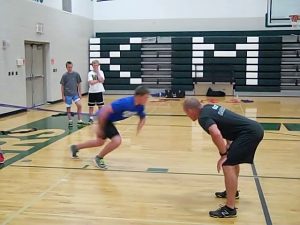 faster, quicker and more explosive training with resistance bands.
Dave's passion—as well as his vast experience as an athletic trainer, physical therapist, performance enhancement specialist and a high school strength coach, has provided him with the movement knowledge to teach coaches and athletes of multiple sports, how to quickly and efficiently implement resistance bands into their pre, post and in-season training programs.
RBT Speed and Conditioning Training Clinic Are Perfect For…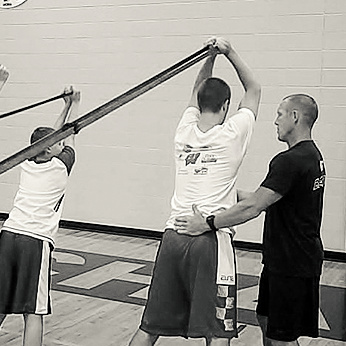 High Schools, Colleges or Professional Sports Organizations looking to provide their athletes with a multi-directional first step acceleration and deceleration speed training program
Private Training Facilities looking to expand their sports performance outreach program
Large Gyms looking to bring in a low cost sport performance program
Youth Sports Organizations wanting to add a convenient age-friendly speed and strength training component to compliment their skills development training
Regardless of your situation, Dave will work with you to customize a your speed training clinic to fit your athletes needs.
Please don't hesitate to contact Dave below and let him know how he can best serve you in getting the Resistance Band Training System working for  your athletes, trainers and coaches.
Special 2019 Live High School Summer Athlete and Coaches Training Workshop Special 
---
I'm Interested in Hosting an RBT Speed Training Clinic at Our High School, College or Sports Performance Training Facility!
[gravityform id="5″ title="false" description="false"]
---
What the Trainers and Coaches Are Saying about the RBT Clinic

The bands and workouts we have implemented from Dave Schmitz have revolutionized our training. Our athletes have seen tremendous improvements in strength and flexibility. The RBT system has been the perfect complimented to our  in house Acceleration Training program as well as providing us an easy outreach speed training option we can take to any school or sport club.   
Darrel Barnes (Athletic Republic – California)

I have been working with resistance bands since 2002, attended Dave's speed and agility clinic for coaches in 2014, and trained with Dave in two other clinic settings. His clinics and training videos are designed in progression to prevent injury and improve athletic performance. They have enabled me to design workouts for my athletes and myself. When I had questions regarding workout frequency, sets, reps and overall fitness, Dave has always been prompt in his responses. His site has a wealth of information for any individual who wants to improve overall fitness in any age group. Like Dave, I work with athletes each week and Dave's RBT Training System has allowed me to provide each of our athletes with programs that adapt to their needs and strength levels.
Greg Wright (High School Strength Coach Mattawan, MI.)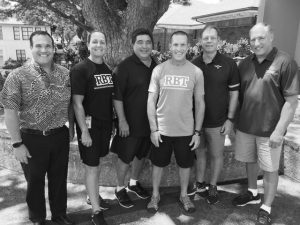 "Dave's 2-day visit to the Punahou Department of Athletics is the gift that keeps on giving! In addition to significantly impacting our student athletes and Athletic Performance program, our Physical Education faculty has made training with bands an integral part of their curriculum. While Dave's knowledge and expertise is tops in the industry, it is his ability to connect with our coaches, teachers and students through a hands-on approach that leaves a lasting impression. RBT continues to help us train explosive athletes and contributes greatly to our long term athletic development plan. We can't wait to have him back!"
Thank you Dave
Michelle Arnold Athletics Associate, CSCS  Punahou Academy – Honolulu HI
---
See RBT Speed Training Clinics In Action