Why You Should Start with Bands First
If you look back at some of the first videos I shot in 2008, you may have seen my squat rack, some machines and definitely some free weights lying around. That was my old home gym which was heavy on equipment and lacked floor space to move. It's no wonder I was stiff and inflexible.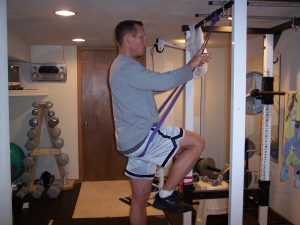 Around 2009, I decided to revise my home gym workout plan and build a more versatile home gym using resistance bands as the primary training tool. It was easy for me because I was sold on band training and the impact it had on my body.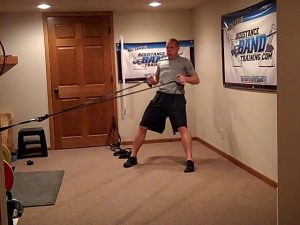 10 Reasons to Build Your Home Gym Around Band Training
Here are 10 reasons why I feel my new home gym workout plan built around band training has allowed me to get in great shape both physically and athletically.
You never have to miss a workout because your gym is literally a few steps away. All I do is go down to the basement with my IPhone and a water bottle. The time I save not having to travel to a gym is now my Finisher Time.
You can train any aspect of fitness or performance. Except for pounding the heavy weight which my body doesn't necessary appreciate these days, I can train any aspect of fitness or performance in my home band gym. You will find as you age, it's not about the weight as much as it is about the effort.
It is family friendly which means promoting health, fitness and working out in my house is a given. My kids enjoy working out in the home gym as long as they don't have to always do it with me or listen to my music.


Promoting fitness and creating a home gym workout plan for your children is going to be critical to an upcoming generation that is driven by social media and all the sitting that comes with that.

You do not have to remodel or reconstruct anything as long as you don't mind putting a bar on the wall which, to me, is simple construction.
You can easily multi-purpose the room which is what we do. It is not only our home gym, it is where we package things and where I shoot all my RBT indoor videos. My daughters also use it as their private dressing room when a large mirror is needed.
A home band gym is inexpensive yet extremely versatile which is a key when space is at a premium.
It will provide a place you can go to just let it rip if you want which is something that is difficult to do at a busy gym. My home gym is my second favorite room in our home next to the kitchen.
No concern for damaging walls or floors. Weights, kettlebells and dumbbells leave a mark when they hit the carpet or wall. Bands don't.
Bands make all other tools more versatile. After I got my band gym setup going, I brought in a pull up bar, a weight vest, a suspension system, 2 kettlebells and a small plyo box to add to my band training options.  Fortunately, all of these added tools store away easily.


Body weight becomes a lot more fun. Adding a band to simple push-ups, pull-ups, squats, lunges, and planks creates a significantly greater challenge without adding an additional cost or build out.
Summary
Today my home gym workout plan incorporates other tools that help me expand the versatility and results of my resistance band training workouts. What's really cool about having a resistance band home gym is that I can train by myself  at any intensity and anytime I want.
The other reason bands make my home gym workout plan enjoyable is that once the weather gets nice out, it becomes a portable home gym that I take on the road, to my driveway, into my garage or to the park.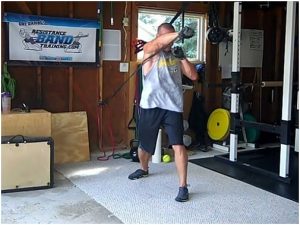 If I had all those heavy free weights or machines that I did back in the day, I would be stuck training in my basement when the sun is shining and all that Vitamin D is waiting to energize my body.