Description
Why Train with RBT Gloves?
For years I did not feel it was necessary to train with gloves. However, during a tropical vacation I discovered why RBT Gloves were important. Yes eliminating slippage from excessive hand perspiration was important however the real game changer was the incredible muscle recruitment I experienced while wearing the gloves. The grip has a direct switch that when enhanced instantly increases  primary working muscle recruitment and contraction.  Also the stronger the grip the  better the shoulder joint muscles stabilize which also leads to higher levels of primary muscle recruit and contraction.  Better muscle recruitment results in better muscle strength building results. Combine that with greater hand comfort and you will quickly discover that RBT gloves are a natural workout enhancer.
PALM and SIDE HAND PROTECTION: Bands unlike weights, create pressure on the entire hand, not just the palm. Therefore RBT Gloves were specially designed as a full fingered glove to provide comfort and protection for the entire hand. A durable genuine leather palm and side panels provide for max grip of the band while protecting the sides of the hand and palm for total band training performance comfort.
DURABLE: The RBT Glove was training tested for over 6 months prior to putting it into the RBT Store to make sure it would withstand daily resistance band training. The glove's backside ventilated flexible material helps pull sweat away from the hands while allowing a comfortable fit and firm grip of the band. Less sweat and effective backside ventilation eliminate any issue with perspiration smell without compromising durability.
BAND SPECIFIC VERSATILE DESIGN: Besides not being gender specific, the RBT Glove's unique underside velcro closure makes for a very comfortable fit around the wrist while eliminating friction issues seen with traditional top-side velcro closures when wrapping the band around the top of the hand and wrist area.
100% SATISFACTION GUARANTEE: Like with RBT Quantum Bands, if you have any question or problem regarding the RBT Gloves contact us at Support@resistancebandtraining.com Your 100% satisfaction is our first priority.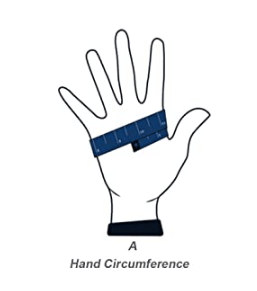 Sizing Chart
Determine circumference by measuring the widest part of your hand.
Sizing Chart
Size
Inches
Centimeters
Small
6.5 – 7.0
16 – 18
Medium
7.0 – 7.8
18 – 20
Large
7.8 – 8.6
20 – 22
XL
8.6 – 9.4
22 – 24